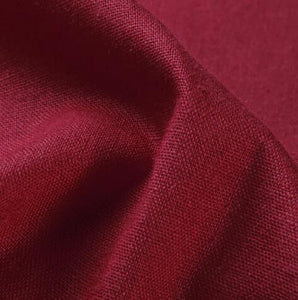 Product Featu

res
Include: 1 set of 2 Pillow Cases
Pattern: Red Solid
Color :

Red 

Solid

Material: Polyester/Cotton
Healthy: Innocuity, sanative environment
Hidden zipper design, suitable for home, office, car or work as decoration
The front and back sides show the image
Pillow cover only (The Insert is not included)
Lining: White lining and brown lining are the same price. The default lining is

white

 liner with shiny side. One side is shiny while the other is not

. 

If brown lining or not shiny striping needed,  

choose LINED first

 and enter them in

【special instructions for seller】on cart page.

If choosing the brown liner,  you'll get enough shading rate but it might dull (darken) the front color of the curtain fabric. Vice versa. If you choose the white lining, it would not dull the curtain fabric though the shading rate is not as high as brown lining.
Usual shipping time: 5-12 business days 【Except during holiday rush (Christmas, New Year, etc.) or remote areas】.
The shipping times in different countries may vary.
Once your order is shipped an email will be sent to you, where there are the shipping carrier's name, tracking number with a link and .
Click the number or the button, the tracking info in the carrier's system will be opened, and you'll see exactly where your parcel is.
Learn more about Shipping Info.
Don't worried if you'd like to return, here are some tips for Return & Exchange:
1) Items can be returned in 30 days after delivery.

2) Please contact our customer service team if you need to process a return, cs@anadytop.com.
Note: The return shipping address will be sent to you in an email and we will take care of it right away.
Please ship the items back to the address we send to you, Thank you!
Learn more about Return Policy.
To ensure that each product is virus-free, the following measures have been taken by us to avoid covid-19 infection from the source:
All people have to be checked for body temperature when entering our factory, all employees of our factory must wear masks, gloves, and work uniforms (similar to protective clothing) to work.
All our fabrics and raw materials are unpacked outside the factory door, and the inner packing is disassembled in a specific area. They are sterilized and laid for 24 hours before stored into the warehouse.
Our work areas including sewing machine, tools like scissors etc. and warehouse are cleaned daily and regularly disinfected.

All products are sterilized before packaging and shipping out

.
24 hours is how long the coronavirus can live on the surface of package if the parcel is infected with covid-19 during transport.
Here are the tips for you to open your parcel:
Wear gloves to unpack outdoors
Throw the outer package into a trash can
Take the inner package into the house