Red Toned Floral Curtains with a Grayish White Background
1.The elegant window curtains and drapes are the WISE CHOICE for living room, bedroom, dining room, kids room, girls room or door(outdoor, patio door,sliding glass door) and more

2.The FABRIC is not only luxurious but substantial and feels very silky, and falls so well, no wrinkles.

3.Energy efficient & Noise reducing: Great quality, it adds more personality in your windows than just plain window blends and helps control the light, lends privacy and warmth, makes the room cooler and much darker

4.Installation: Very easy, just slide through your curtain rod. Pull very smooth while opening and closing.
5.Cleaning:Machine washable,non bleaching,easy care.
SHOP NOW
Transparent Branches White Sheer Curtains
Lovely pattern, very nice quality and perfect design.
The look is amazing!
When the light shines through the branches it cast shadows of branches on the wall.
Customer review,"Perfect! Very nice quality and design.
I bought it for my mother-in-law, who is looking to refresh her living room.  I was looking for something somewhat sheer to let light in during the afternoon and not completely block the light out, but still offer some privacy. We hung it up for her and she absolutely loves them and asked me to buy another pair for her sliding doors."
SHOP NOW
Embroidered Blue Flower White Curtains
Our customer reviews"These curtains are AWESOME!!! High quality material. The blackout backing is a velvety brown heavy high quality material. The detail and stitching is amazing. Great quality and they arrived sooner than I expected. I did need to be home to receive them and was so anxious to get them was worried but I was home when the delivery person brought them. I am going to look at their other curtains and will buy from them again!"
SHOP NOW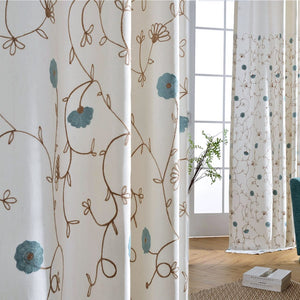 Gold Blackout Curtains
Great buyer commented"This company is wonderful, they custom made my drapes EXACTLY how I ordered them and even double checked with me via email to make sure they had every detail correct. They also got my curtains to me and entire month earlier than expected!
I got them in gold and they are amazing.....not a brassy gold but a but more of a brushed tone.....think 1940's glam. They immediately made the room cooler and much darker, they don't block light completely and turn the room into a cave, but they get it dark enough that I can sleep soundly during the day and even rest undisturbed with a migraine. When the sun hits behind them they turn a bright amber color, so they are still gorgeous!"
SHOP NOW
Why Choose Anady Top?
Anady Top is our own brand
Curtain header / size can be easily customized for free
Huge Savings, we're curtain factory outlet, Not an agent
Eco-Friendly & Harmless Fabrics, Quality Materials
100%SECURE, Your transaction is protected securely!
Find out more